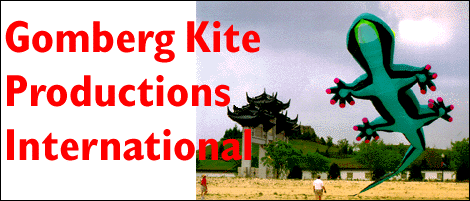 Welcome to Gomberg Kite Productions, International!
On the pages that follow, we hope to share with you the excitement that kiting offers on a global scale.
GKPI specializes in big Show Kites, Inflatables, Tails, and Line Laundry. We offer a great collection of introductory kites in our G-Kites pages or on our sister site at GKites.com. And if you're looking for a bargain, be sure to visit our Factory Outlet.
For two decades, we travled the kite world and reported our adventures in Weekly Updates. We opublihsed three books that are now online here.
If you are interested in flying lessons, try the How to Fly section for details on single-line, sport kites, and kite fighting. Specialized flying instructions for our larger kites are in our Frequently Asked Questions.
Interested in kite history or how to build your own kite? In our Educational Pages, we offer materials for schools and teachers.
Finally,we tell you a little more about ourselves and our interests in the Personal Page.
The history, art, technology, sport, and industry of kiting is wonderfully diverse. And wherever you turn, there is more fun to be found.
We're glad you joined us.
---
Search Our Site
Show Kites, Lifters, Laundry and Banners for Sale

Foils, Flowforms, and Sleds - A complete selection of Big Lifters
Super Line Laundry - Bols, Socks, Tubes, Tails, and Wind Art
Unique Inflatable Kites - A Plethora of Stars, UFOs and Flying Devils
Advanced Sticked Kites - Boxes, Roks, Big Deltas and Fun!
Peter Lynn Giants - Amazing kites from New Zealand
G-Kites - A special collection of lower priced kites and accessories
Modern Japanese Rokkakus - in ripstop sailcloth and fiberglass frames
Custom Kites - Kites with Your Own Graphics
Accessories - Flying Line, Anchors, Hardware, Bags and Clothing Too!
Dealer Inquiries - Special information for retail stores.



Click here to view
the Current
G-Kite Interactive Online Catalog
(40 online FLIP file)
GKPI Factory Outlet
Reduced prices on new kites, demos, and factory seconds.

Weekly Update Archive
More than 600 essays of trip and festival reports, photos, news, new products, and contemporary kite history.

Frequently Asked Questions
Tons of information for large kites, lifters, safety, tuning, and anchoring.


How to Fly
Kites as an Educational Tool
Use kites in the classroom to teach about History, Science, and Art.


Workshop Instructions and Simple Kite Plans.

Kite History and Inventor Profiles.

Photos of Kites from Around the World.

Information on Wind and How a Kite Flies.

A little bit about David and Susan

---
All content are copyrighted and all rights are reserved.
Republication of any text or images with written consent only.
Questions and comments should be directed to: Webmaster@GombergKites.com